Revision Centre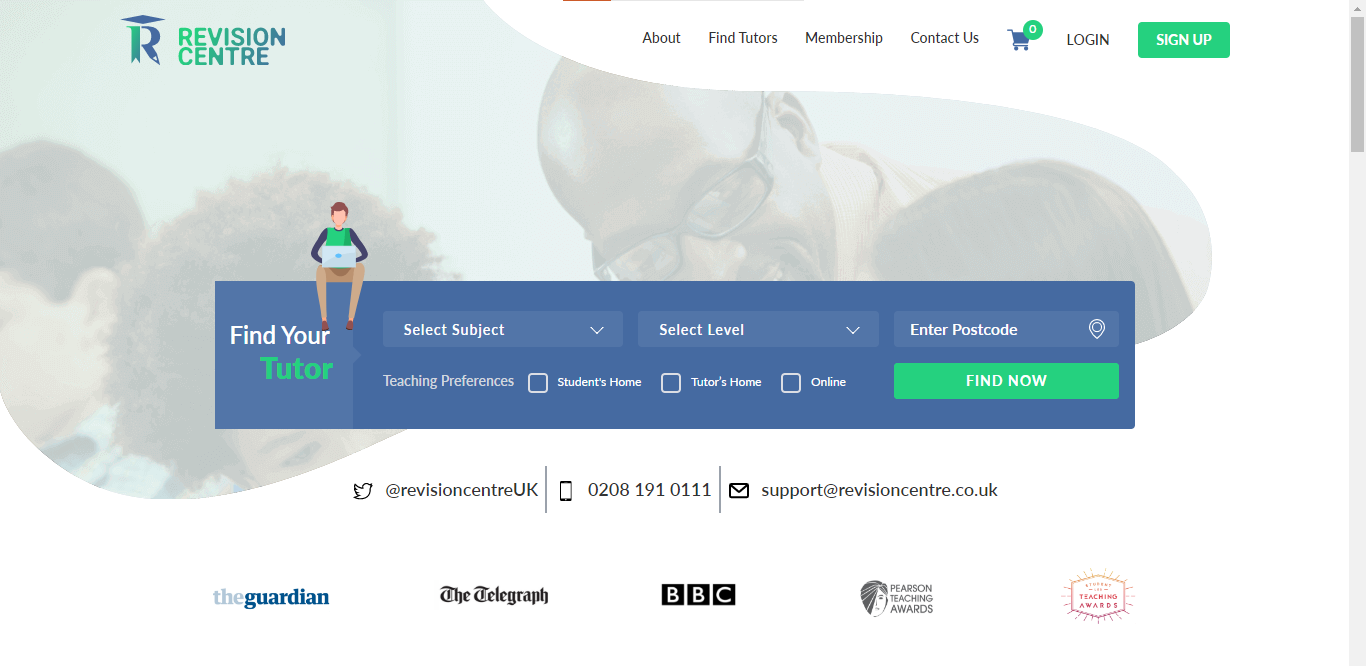 Revision Centre is a platform specialising in a range of different subjects, from GCSE to A-level, to help tutees increase their grades or boost their confidence. All tutors are based throughout the country with varying levels of experience, different price points, and availability both in-person and online, so there is a tutor for just about every student.

Students can search for a tutor, filtering their search by subject, level and more. This ensures that, as a student, all of your requirements will be met and you'll be paired with a tutor who knows the ins and outs of your chosen subject.

Safety
All tutors go through rigorous safety checks, including having their address and ID verified, passport checks, and a DBS check is also advised too. The result of these checks will be made clear on each tutor's profile in the form of a checklist. This means, when searching for a tutor on this website, you can be confident that you are in safe hands when being taught by a Revision Centre tutor.

When searching for a tutor, you can filter by location, and choose whether you'd like to be taught online, in the student's home, or at the tutor's house, to make sure you're able to learn in an environment you're comfortable in.

Commission Rates
One of the main advantages of tutoring with Revision Centre is the low commission rates, meaning tutors earn more for their time in comparison to other tutoring platforms. For the first three months, tutors on Revision Centre won't pay any commission, and thereafter they will only pay 10%.

Payment
Revision Centre has a secure payment system, allowing students to pay their tutors in a safe capacity. Unlike other tutoring sites, Revision Centre ensures that tutors will be paid within 48 hours of carrying out their lesson, which means that tutors won't be out of pocket or waiting long to be paid.

Like other tutoring platforms, Revision Centre also set their own hourly wage based on a number of factors, such as experience, the type of content being covered and where the tutoring is taking place. This can easily be adjusted on the platform at any time.

Additional Benefits
Revision Centre is an incredibly flexible service, with students and tutors alike. The site shows a real-time calendar to check the availability of the tutor, allowing students to book in at any time the tutor is "free".

The website makes finding a tutor easy by allowing students to filter their search by subject, level and teaching preferences (at their home, their tutors home, or online). When searching through the list of tutors available, each tutor will list their qualifications, pricing, hours taught and their experience, making it simple to choose the perfect tutor.

Furthermore, the site also has a moderated review system, where students will be able to read through reviews from previous students. This helps students to see exactly where the tutor excels and whether they suit your learning style or criteria. Similarly, the moderation process means that the reviews are fair to the tutors themselves.

Overall
In conclusion, Revision Centre is a fantastic choice of tutoring platform for both tutors and students alike for several different reasons. Their website is easy to navigate, with all the information you need easily available - from pricing to qualifications, and tutor availability on a daily basis - ensuring it's easy to find a suitable tutor for you or your child.

For tutors, this site is great for those looking for full-time or part-time work, with low commission rates, fast payment, and the ability to choose your own pricing and when you're available for booking.